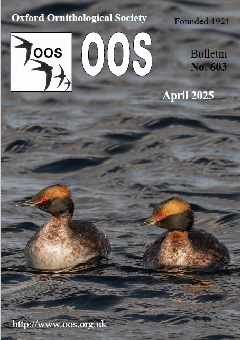 OOS Bulletins are produced monthly by the County Recorder and consist of:
a brief summary of the past month's weather and notable ornithological occurrences
a short summary of records of all species made in the last month
any other OOS announcements, details of forthcoming events, notices from members, etc.
Any records for inclusion in the Bulletin should be sent by post to the County Recorder, or by email to the System Manager (see Guidelines) by the 3rd or 4th of the following month. Bulletins are distributed at Indoor Meetings and by post to OOS members who do not attend. They are not normally available to non-members. Because of holidays and the lack of bird activity, the June/July issues are usually combined into one. OOS members are encouraged to submit personal advertisements, requests and short articles for inclusion at the editor's discretion.