Birdwatching sites in Oxfordshire
This map shows some of the more popular birding sites in the county. Click the red dots for more information, or click the site name in the alphabetical list of sites.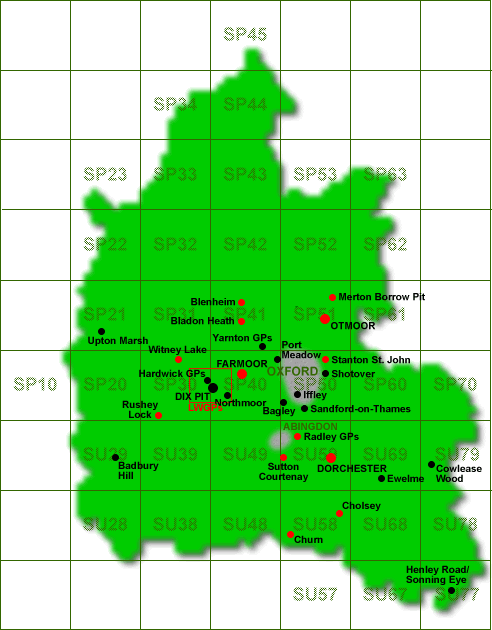 Only sites named in bold have site guides so far; the other links lead to extracts from the OS Landranger map provided by www.streetmap.co.uk.
Aston Rowant NNR
Badbury Hill
Bagley Wood
Bladon Heath
Blenheim Palace
Burgess Field
Cholsey Hill / Cholsey Marsh
Churn
Cowleaze Wood
Dix Pit
Dorchester-on-Thames
Ewelme cressbeds
Farmoor Reservoir
Iffley
Linkey Down
Lower Windrush Valley complex
Merton Borrow Pit
Otmoor
Port Meadow
Radley Gravel Pits
Shipton-on-Cherwell Quarry
Shotover Country Park
Stanton St. John (Shepherd's Pits)
Sutton Courtenay & Appleford
Tadpole Bridge/Rushey Lock
Witney Lake
Yarnton GPs (map shows location only)

Click here for a text list of other sites, with grid references.