Otmoor
Note: a significant part of Otmoor lies within a designated Danger Area (due to the Rifle Range) and is inaccessible when red flags are flying. Access to RSPB land is also limited, particularly while the reserve is under development. See the Access section for more details.
More photos kindly provided by Richard Ebbs.
Information kindly provided by Philip Barnett, with additions from Neil Lambert. For an approximate location map, click here.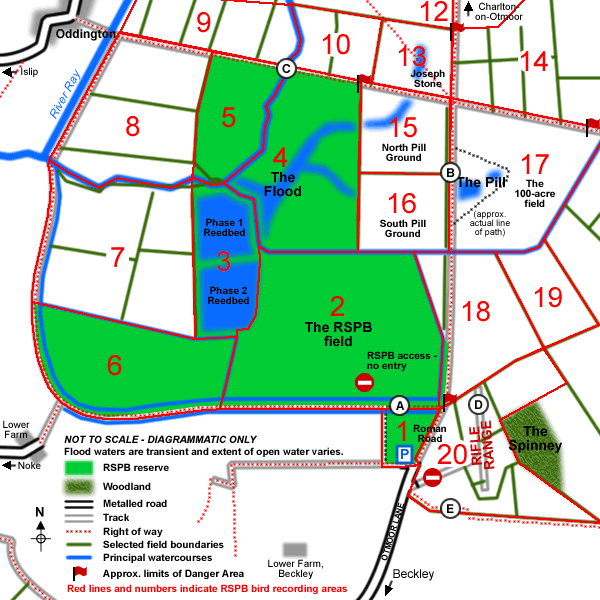 The areas outlined and numbered in red are used by the RSPB for reporting sightings. It would aid sharing of data if observers submitting Otmoor records to the County Recorder would use the same numbers, e.g. "Otmoor: RSPB Area 2".
History

Otmoor, meaning the 'fen of Otta', has much history associated with it. As early as 1327 Islip was classed as a market town, where people from the Otmoor villages would bring local game. At this time Otmoor was an extensive area of marshland that was common land for the villagers, used for fishing, wildfowling and grazing stock. The marshland was still extensive and largely unvisited in 1800, when Falkner described the area as being "wholly given up to great flocks of geese". In 1801 an application was made for the drainage of 4000 acres, and between 1815 and 1837 enclosure took place, which included the digging of the New River Ray, and the rights of common were revoked. This led to the Otmoor Riots and removed the true marshland, and it is around this time that species such as Bittern and Black Tern that were thought to have bred on Otmoor would have been lost, though we do not know for certain. However enclosure was not entirely successful. Aplin (1889) described the area as being "underwater all winter, often also in summer, and never very dry at any time" though he did note that shooting, once the livelihood of several villagers, had "greatly fallen off". The bird interest was still extensive then. For instance a variety of wildfowl were shot including White Stork (one out of a party of four, 1828), Purple Heron (1837), Black Stork (1865) and Little Bittern (1872). The area was described by Jourdain in 1926 as being "underwater for long periods in wet seasons". However after the Second World War extensive drainage took place and hedgerows were removed creating large, open, arable fields. The bird interest thus was substantially reduced, being focused on the central wet meadows, designated a SSSI, that are owned partly by the MoD. The MoD have owned parts of Otmoor since 1920, using the area for RAF practice bombing until 1958, and there is still an active Rifle Range. Since 1995, as a result of an ESA scheme and RSPB acquisition, large areas that were arable are being returned to wet meadows and this has already been of great benefit. There have been several recent threats to Otmoor, most notably the M40 proposal, but the future of Otmoor is now safe as a result of MoD and RSPB protection.

General

Otmoor is, and increasingly so, an outstanding area for birds. In the winter there are large numbers of wildfowl and waders. Last winter saw over a thousand Wigeon and Teal, whilst raptors such as Merlin and Peregrine are regularly seen. The spring and autumn produces good numbers of passage migrants, including waders in the spring and Redstarts and Whinchats in the autumn. The best time for Marsh Harrier is late April to mid May. There are good numbers of breeding waders and recent RSPB work has increased the number of pairs of Lapwing and Redshank. There is little intensive agriculture left on Otmoor now, mainly on the eastern fringes, and large areas of Otmoor have benefited from extensive agriculture using traditional methods (widely supported by the ESA). As a result there are still good numbers of songbirds that are declining in the UK, such as Bullfinch, Skylark, Reed Bunting, Grasshopper Warbler and Turtle Dove.

Grid Reference
The RSPB car park is at SP570127.
Directions and parking

From Oxford: Follow the ring road until the Green Road roundabout at Headington. From here take the minor road to Beckley. Follow the road through Barton and up the hill until you reach a T-junction. At this junction turn left then first right and follow the road into Beckley (*). Follow the road past the Abingdon Arms and keep left into Otmoor Lane which bends left just past the pond. Follow this road down to Otmoor. Right at the end of the road there is a left turn which takes you into the RSPB car park.

From A34: Leave the A34 at the Islip turn (B4027) north-east of Kidlington. Follow this through Islip, crossing the River Cherwell, and past turnings to Noke on the left and Woodeaton on the right. Take the first turning on the left to Beckley, turning left as you reach the village. Swing right by the church and follow instructions from (*) above.

From A40 westbound: Leave the A40 at the Forest Hill turn (B4027) near Wheatley. Follow this road through Forest Hill and Stanton St. John, then past a staggered crossroads. Take the next right signposted to Beckley. When you reach the church follow the directions from (*) above.

Public transport
None
Access

Reserve Access

Follow the visitor route sign at the entrance to the car park through the next gate where you will find a small information panel and leaflet dispenser. Both the panel and leaflets have a map showing the visitor route and viewing screens. There are now also trail marker posts at any junctions. The furthest reed-screen is about a 4.5km round trip (3 miles).

Part of the visitor route is a public bridleway and after wet weather can get badly churned up by horses. Wellingtons are essential and the going can be very heavy.

Public rights-of-way (see map).

A bridleway follows the line of a Roman Road north-south through Otmoor connecting Beckley with Charlton; another loops round the south-eastern section of Otmoor from the Rifle Range area, passing close to Noke en route for Oddington; and a third runs east-west connecting Oddington and Horton-cum-Studley. The MoD land is strictly permit only, so although the bridleways cross MoD land, do not stray too far from them. Dogs must also be kept on a lead.

Danger Area

The red flags mark the Danger Area around the Rifle Range. Firing currently takes place 09:00-16:00 on every day of the week (including weekends) apart from Monday and Thursday. There is no evening shooting this summer (2000). This information may be subject to change - always check the flags and read the notices. If the flag on the butts is displayed, do not enter the Danger Area.

Key Areas

The Main RSPB Field (SP565143)

There are two large lagoons in the north-west corner. The track across this field should not be used.

The Central MoD area (SP574140)

The "100-acre field" (B) and the two fields immediately to the west (SP571139) are also important. There is a small pool, known as "Fowls Pill" (or sometimes simply "The Pill"), and a small scrape that are worth scanning. These fields often flood in the winter. This is a good area for wintering wildfowl and waders and breeding waders, and also for Grasshopper Warbler and migrating Whinchats in the Autumn. The small fields to the north are good for Redstart.

RSPB Flood Field (SP563145)

Where the Oddington bridleway crosses a stream (C) 1km east of the New River Ray, you will see the floods to the south. This is an excellent area for wintering ducks and breeding and migrating waders. Please do not enter this field.

The Rifle Range (SP578127) (D)

Sadly Nightingale was not recorded in 1999, but the area still has Turtle Dove and common breeding warblers. There is no access to this area without permit, but there is a footpath at SP569125 (E) running along the southern edge of the area.

General birds

Approximately 197 species have been recorded on Otmoor this century. The number of species recorded each year, since the 1980's, has increased markedly in recent years: 1988 108; 1989 113; 1990 111; 1991 113; 1992 127; 1993 132; 1994 126; 1995 143; 1996 139; 1997 135; 1998 148. Although observer coverage has increased, this is mainly due to the creation of the ESA flood in 1995 and the RSPB's involvement since 1998. The increase in species in 1992 was due to parts of Otmoor becoming wetter, and a large area of arable land becoming set-aside. There has also been an increase in breeding species as well, with around 87 breeding species now compared to around 78 in late 1980's, though Nightingale, Tree Sparrow and Tree Pipit have recently been lost.

Resident: Little Grebe, Shoveler, Pochard, Tufted Duck, Sparrowhawk, Kestrel, Water Rail, Lapwing, Snipe, Little Owl, Tawny Owl, Meadow Pipit, Marsh Tit, Willow Tit, Bullfinch, Reed Bunting.

Spring/autumn passage: Marsh Harrier, Little Ringed Plover, Ringed Plover, Ruff, Black-tailed Godwit, Whimbrel, Greenshank, Green Sandpiper, Redstart, Whinchat, Wheatear. Otmoor is now one of the best sites in the county for passage waders. 1999 spring passage also produced: Grey Plover, Sanderling, Turnstone, Knot, Little Stint, Bar-tailed Godwit and Spotted Redshank.

Summer: Hobby, Quail, Curlew, Redshank, Turtle Dove, Cuckoo, Yellow Wagtail, Grasshopper Warbler, Sedge Warbler, Reed Warbler, Whitethroat, Lesser Whitethroat, Corn Bunting.

Winter: Shelduck, Wigeon, Gadwall, Teal, Pintail, Hen Harrier, Merlin, Peregrine, Golden Plover, Jack Snipe, Short-eared Owl, Stonechat.

Other Wildlife

Otmoor has a rich variety of other wildlife. There is high plant diversity with some rare vegetation types and plants. These include Fen Violet, Downy-fruited Sedge, Dyer's Greenweed, Heath Spotted and Green-winged Orchids. Butterflies include Black, Brown and White-letter Hairstreak along the hedgerows, and good numbers of Marbled White and Orange Tip in the meadows, whilst dragonflies include Hairy Dragonfly and Variable Damselfly. There are also good numbers of Hare and Badger and Muntjac deer are sometimes seen.

Contacts

RSPB Site Manager: David Wilding, RSPB c/o Folly Farm, Common Road, Beckley, Oxford, OX3 9UR

MoD: Eastern-Western TAVRA, Slade Park Barracks, Headington, Oxford. OX3 7JJ

Nearby sites
Merton Borrow Pit, Stanton St. John Pits.
Author
Philip Barnett